Nowadays every household has a refrigerator somewhere in the kitchen as they have become an integral part of our daily lives. Whenever you think of the refrigerator the first thing that might come to your mind is a boxy boring cupboard like thing which holds your food items and keeps them cool.
And that is somewhat true as most of the refrigerators resemble the same design. But in the past few years, a lot of innovations have been made in the field of refrigerators and companies like Samsung, Whirlpool, LG has focused and design to produce a better class of refrigerators that are not only good in aesthetics but also has a ton of features that weren't there earlier.
If you go out to buy a new refrigerator, you will be bamboozled by the varieties and range of refrigerators that you can choose from. Options ranging from multiple different colors and styles to personalized refrigerators that can suit your home decor. With all these options available out there it becomes quite difficult to pick a particular refrigerator and the whole process becomes quite overwhelming.
To solve this very problem we will guide you through the steps you need to choose the best refrigerator possible for you by the means of this article.
What kind of refrigerator do you want?
Starting with the basics the first question you to ask yourself is what kind of refrigerator do you want. With the wide variety of refrigerators available in the market, the first thing you need
to ask yourself is, what are your needs and which refrigerator will suit them the best.
To simplify the choosing process we can divide the whole class of refrigerators into four main classes depending upon the position of the freezer and the refrigerator compartment.
the four categories then can simply be stated as a top freezer, bottom freezer, side by side and french door.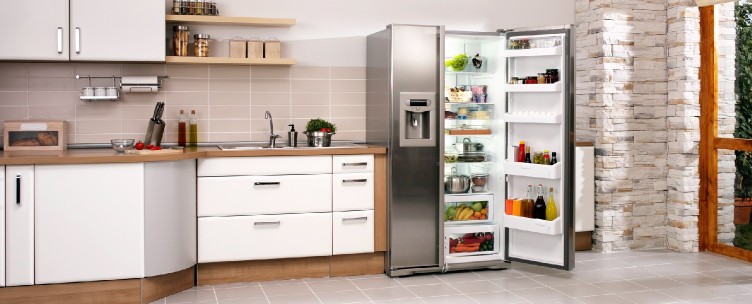 ● Top freezer – the top freezer refrigerator is the most common refrigerator out there and it is probably the one that comes to your mind when you think of a refrigerator. this kind of refrigerator has a freezer sitting on top of the refrigerator compartment covering one-third of the total body of the refrigerator. This style of refrigerator is the most common and therefore are available in abundance and so you can pick them for a cheap price. If you aren't looking for something fancy or something vibrant, then these can be the best choice for you as these are available for a very low price as compared to the other three categories.
● Bottom freezer – this type of refrigerators are similar to the top freezer category and the only difference is the position of the freezer compartment. unlike top-freezer refrigerators, in bottom freezer refrigerators the freezer is located at the bottom. The bottom position of the freezer in these types of refrigerators makes it easier to access fresh foods. nowadays most of the bottom freezer refrigerators come with a drawer-style freezer that can be pulled out for easy access. These types of refrigerators are slightly bigger than top-freezer refrigerators and have less variety in terms of colors and designs.
● Side by side – Side by side configuration in a refrigerator divides the refrigerator into two halves where generally the left side is reserved for frozen foods while the right side is for fresh foods. Mostly all such refrigerators have equal space on each half but some manufacturers tend to allocate a bit more space on the fresh food halve. This, in turn, makes the freezer section narrower than what it normally would be. This means that you can't put food items with a larger size such as a frozen pizza in there and this fact can be a bit constricting aspect for many people who prefer having a not so narrow freezer. Refrigerators with this particular configuration of doors cost a bit more than the previous two types ranging from $1200 to $3000. This type of refrigerator is a very good choice for people who are space-conscious but still want a feature rich refrigerator.
●French door – A French door refrigerator is basically a combination of a side-by-side door and a bottom drawer style refrigerator. This allows you to have a full-width double door refrigerator with plenty of storage space. Since the refrigerator door is split in two, every time you open any of the two doors to take out any item off the refrigerator you'll allow very less air to pass through as only one door will be open at a time.
Since the demand for such refrigerators is high, you'll find a good variety of such refrigerators in the market. Most manufacturers provide such refrigerators with customization options too which you can modify according to your personal choice. These refrigerators cost the most among the above-mentioned types and generally fall between the $1500 to $4000 price range
How big the refrigerator should be?
How big the refrigerator should be, mostly depends upon your family size and how big is your kitchen. Few things that you need to keep in mind while choosing the right size for your refrigerator are, how much space each person in your family needs in the refrigerator? How big is your kitchen and how much electricity bill you can spare?
Also, bigger the refrigerator bigger will be the electricity bill. So make sure that you don't buy a too large sized refrigerator if you have a very small family or live alone. So it's better to buy a small sized refrigerator that suits your needs the best.
Should your refrigerator be counter-depth?
A counter-depth refrigerator means a refrigerator that is perfectly aligned with the edges of your kitchen counter-top. These refrigerators mostly serve a aesthetic purpose and don't necessarily provide any extra features whatsoever.
But bear in mind that these refrigerators are generally more expensive than normal refrigerators of similar category. Also, these refrigerators are slightly shallower then their counterparts as most of the kitchen countertops are lower in depth than most refrigerators. Moreover, these refrigerators are custom built so you can modify the aesthetics of these as per your choice.
What features you should look for?
With the advancement in technology, manufacturers try to introduce new features in their refrigerators regularly. Now, most of these refrigerators have features that might not be very useful for you personally but will surely cost you extra money. So it is always better to look for refrigerators which have most of the features that benefit you personally and not just buy a refrigerator that comes with fancy but not very useful features.
Do you need a water dispenser?
Nowadays most of the new refrigerators come with water dispensers which dispense water as per your requirements. Usually, the water dispenser nozzle is present at the front side of the refrigerator door and most new models automatically detect whenever a glass, bottle or jug is placed under the nozzle to collect water. Some models also have a special place for water pitchers to be placed inside the refrigerator which gets automatically filled whenever you place the pitcher inside the refrigerator.
Should you buy a smart refrigerator?
Smart refrigerators are like normal refrigerators but with some extra smart features. Getting a smart refrigerator is completely an optional choice and you can do fine without it. The main factor to consider with smart refrigerators is that they don't come cheap
The only decision you need to make is whether you actually need the smart features or not. Some of the most prominent smart features that you need to consider before buying a smart refrigerator are
Voice control
Most new smart refrigerators nowadays can sync up with modern smart-home voice platforms. General Electrics most smart refrigerators can seamlessly sync up with platforms such as Alexa and can be used for quick temperature adjustment, or it can also issue warnings when the water filter needs to be replaced. You can also control the frost and defrost cycle of the refrigerator with voice commands,smart refrigerators are the best refrigerator in India.
Smart multitasking
Smart refrigerators can also connect to your mobile devices via wifi through which you can issue it commands such as start heating up water, change the temperature, etc.
Refrigerator cameras
Most smart refrigerators come with in-built cameras that lets you check the contents of the refrigerator without having to open the door. Some refrigerators even allow you to check these details from your phone remotely which is a great feature as you can check the contents of your refrigerator directly if you are in a grocery shop and need to know what products you are running low on and what products you need to buy.
Conclusion
The bottom line that you need to answer for yourself is whether you actually need a fancy refrigerator with world class smart features or if you are just happy with plain and simple refrigerators.…
Read More